Plot RF special operation in Donbass and Ukraine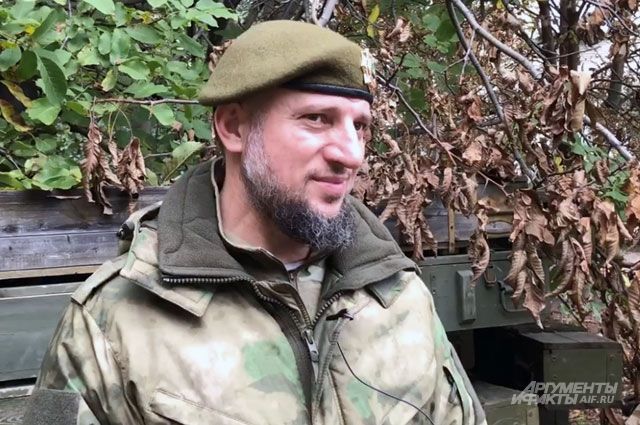 Aide to the head of ChechnyaRamzan Kadyrov for the security unit, commander of the special detachment "Akhmat" Apti Alaudinov in an interview with aif.ru about what awaits the mobilized Russians in Donbass and why the population of the liberated territories chose to be with Russia.
Ramzan Kadyrov's assistant Apti Alaudinov — one of the few well-known Russian politicians who spent most of the special military operation in the Donbass. Moreover, during the liberation of the LPR and the capture of Severodonetsk, Apti was constantly next to the Akhmat special forces soldiers. So this time we met the already legendary Chechen commander near Lugansk and simply could not help but ask him a few questions about the course of the NVO, mobilization and the past referendum.
— Apti, how do you like the results of the referendum?
— I want to congratulate the people of Donbass on the completion of the referendum. They have been going to this for a long time. Only legal formalities remained. I want to note that there is no need to be surprised at anything, because the people of Donbass have suffered enough. I'm not just talking about the people who live in the DNR and LNR. I am also talking about Kherson and Zaporozhye. The population of these territories suffered no less, and today they have come to the conclusion that they will not be better off with anyone than with Russia. The decision of the people living in these territories was predictable, because the Ukrainian authorities did everything to make the population of these territories turn away from it. What pleases most of all is that even real Ukrainians in the majority voted for joining Russia. We can only say: "Welcome home to Russia."
— Special Forces "Akhmat" and the fighters of the LPR are fighting hand in hand. How do you interact with local fighters?
— From the moment the SVO began on the territory of the LPR, the special forces "Akhmat" worked together with fighters of the 2nd Army Corps of the NM LPR. I want to point out that our units are assault units. We are at the forefront together with the 2nd Corps of the NM of the LPR. We all walked together and are moving forward, standing shoulder to shoulder.
I want everyone to hear why we are fighting so zealously together with the people of Lugansk. Chechnya was the first in Russia to have been ill with this disease of international terrorism, when the republic was flooded with satanic forces. Our people got out of this situation only thanks to the fact that we had such a leader asAkhmat Kadyrov, who managed to find a common language withVladimir Putin. Thanks to this, our people got out of this hole and together with representatives of all the security services of the Russian Federation we put things in order on the territory of Chechnya.
< iframe width="560" height="315" src="https://vk.com/video_ext.php?oid=-17862264&id=456243828&hash=94c1cc6e9f5c8b8d&hd=2" frameborder="0" allowfullscreen>
Based on our experience, we can show how this is done. Demonstrate how the components should be adjusted in order to restore order in these territories. Due to the fact that we started preparing and resisting all these shaitans earlier than others, we have more experience in fighting against satanic units.
Pain of Donbass — this is the common pain of the Russian population. We know we're in a holy war. And this war would not have been possible only by the forces of the units of the Chechen Republic, if our Orthodox brothers had not stood shoulder to shoulder with us. All scriptures indicate that we will win this war. This war is common to all who love their Motherland, who associate their future with it. Special Forces "Akhmat", the army of the Russian Federation and units of the DPR and LPR — this is one common force that must crush the army of Antichrist, who has gone to war against us.
— Mobilization took place in Russia. Will it help you achieve your goals?
— We have a category of citizens who got scared, while others went to the military registration and enlistment offices themselves. Yesterday, some of these people even came to us as part of the Akhmat special forces. It is important to understand that we do not need mobilized people on the front line. We have a main task. Today we have liberated vast territories that need to be controlled. We need forces and means for this. The mobilized are needed to protect these territories, to stay in our rear areas. They are needed to localize threats that may arise behind our backs. If they come and help us in our work in these territories, and from them we create reserve groups, then this is a major help.
There is no need to be afraid that the mobilized will be sent here. If we put love for the Motherland and God at the head of our every step, then it will be easier for us. I believe that if everyone wakes up and thinks about whether they want their children to go to gay parades? Does he want to be a slave in his country? Does he want values ​​that are contrary to God and human existence to be in his state, and his children grow up among this. If he answers these questions to himself and says, I would not want this, then he simply has to come out to defend our traditional values.
To all those who are being mobilized today, I can recommend to get all the necessary combat skills as soon as possible and stand on a par with the defenders of our Fatherland and the civilized world. In this case, tomorrow they will be in the ranks of heroes who will honor Victory Day, as our ancestors once did. If they hide abroad or behind the skirts of their wives, how will they live with this further? What will they then apply for? That's the question they need to ask themselves now.
— Chechnya after so many years of wars — it is a prosperous republic. Will Donbass follow Chechnya's path of recovery?
— I personally experienced all the events of the 90s in Chechnya. I participated in restoring order in the republic as part of Ramzan Kadyrov's team. Restore Donbas — little problem. For us today, the most important — is to defeat the enemy. After there are no representatives of the Ukrofascists on the territory of Donbass, we will restore everything here very quickly. Russia, under the leadership of Vladimir Putin, is determined both to restore order and to allocate forces and means for the restoration of Donbass. There will be a prosperous land where tourists will come.
The population of Russia knows how to build. We know this from our history. After the Great Patriotic War, we were able to rebuild the country in a few years. To do this, we just need to unite and bring it all to life. After our victory, all our current enemy states will still envy us, and their leaders will be judged by their own people.
— Today "Akhmat" helps residents of Donbass with humanitarian aid. Ukrainian propaganda speaks blatant lies about Chechen fighters. Do they do it out of fear?
You and I must understand that «Akhmat» — this is a serious force against which Ukrainians cannot do anything. Where we start to advance, the APU just run and abandon their positions. They are being taken prisoner. They do everything to survive in this situation. Ukraine, on the other hand, is doing everything to influence the population, which is why it is trying to intimidate the liberated cities with Akhmat fighters. You and I know that all the settlements liberated by the Akhmat fighters immediately received humanitarian aid from the Akhmat Kadyrov fund. The population already knows that where the Akhmat special forces work, our humanitarian fund also works there.
Rate the material